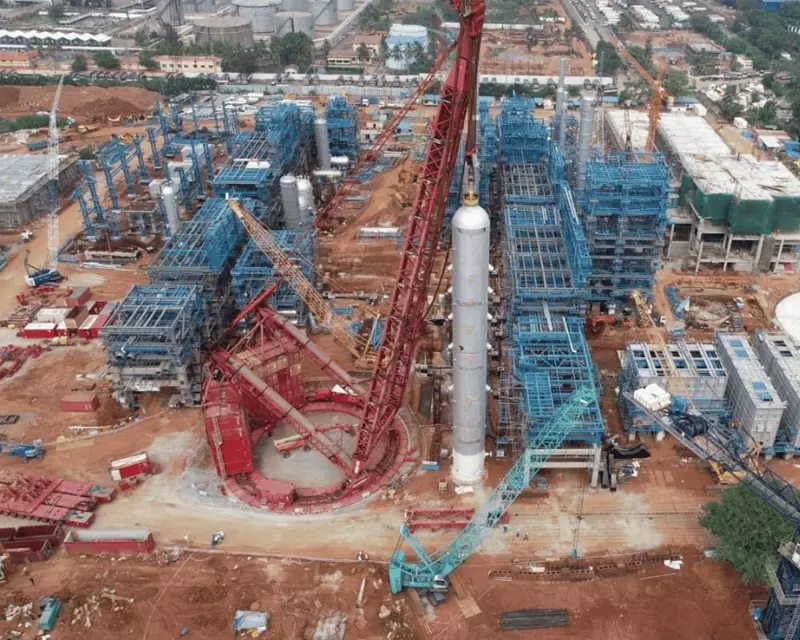 Expertise:
Heavy lifting

Heavy transport

Crane lifting
Benefits:
Reduced preparation

Increased safety

Optimized schedule
Equipment lifted to a new location included one of India's heaviest reactors.
Mammoet contributed to the Visakh Refinery modernization project by safely and successfully completing the lifting of 5 major components at 3 lifting positions at the refinery on time.
Owned by a state-owned company Hindustan Petroleum Corporation Limited (HPCL), the project entails modernization and enhancement of its refining capacity from 8.33MMTPA to 15MMTPA at a new process area on the east of its original plant. L&T Hydrocarbon Engineering, the biggest EPC contractor in India as well as Mammoet's long-time loyal customer, has undertaken the EPC (engineering, procurement, and construction) task and engaged Mammoet's MSG80 Ring Crane, our module sliding gantry with 3,000 Ton lifting capacity.
What makes this project unique is that the close coordination and carefully engineered lifting operation among HPCL, L&T and Mammoet made it possible to overcome logistical and operational challenges without compromising safety and schedule.
Mammoet lifted 5 major components at 3 different lifting positions: 2 columns at Crude Distillation Unit (CDU) and Vacuum Distillation Unit (VDU), followed by 3 reactors and other lighter columns at Full-Conversion Hydro-Cracker Unit (FCHCU). Stage 1 Reactor at FCHCU area weighs 1,646Ton, being the heaviest reactor ever installed in India. Relocation of a 3,000 Ton class crane is already a big operation by itself. With support from L&T, Mammoet took the modularised transport approach by moving the crane in big blocks to expedite the two relocation activities.
Another ingenious solution is a 2,000Te capacity tailing frame, mounted on SPMT (Self-propelled module transporter). For lifting of the Stage 1 Reactor, none of the cranes on site had a sufficient lifting capacity to function as a tailing crane for MSG80. Bringing in a heavy-duty crane just for one lift was not an economical solution on top of the fact that the site was a highly congested area with no practical space to place such a large tailing crane.
"Mammoet provided a good mix of the solution with the main crane strong enough to lift all the heavy items for the project, and the in-house designed tailing frame on SPMT that eliminated the need for a heavy-duty tailing crane and saved its space. This significantly improved our overall cost efficiency and productivity of the surrounding construction activity" says Mr. V. Muthuraman, Deputy General Manager of Plant and Machinery, L&T Hydrocarbon Engineering.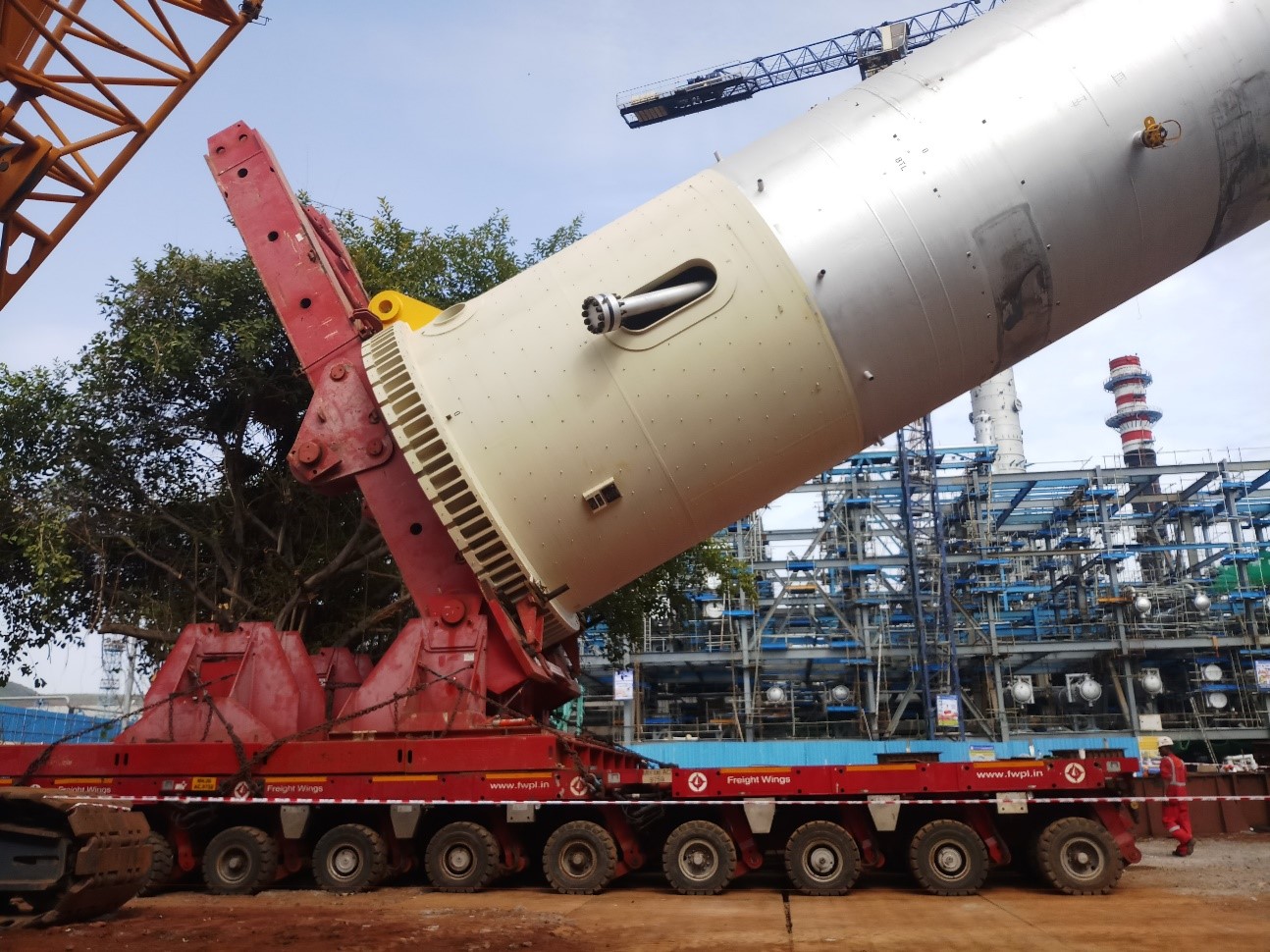 SPMT with 2,000Ton capacity tailing frame used for upending of India's largest reactor.