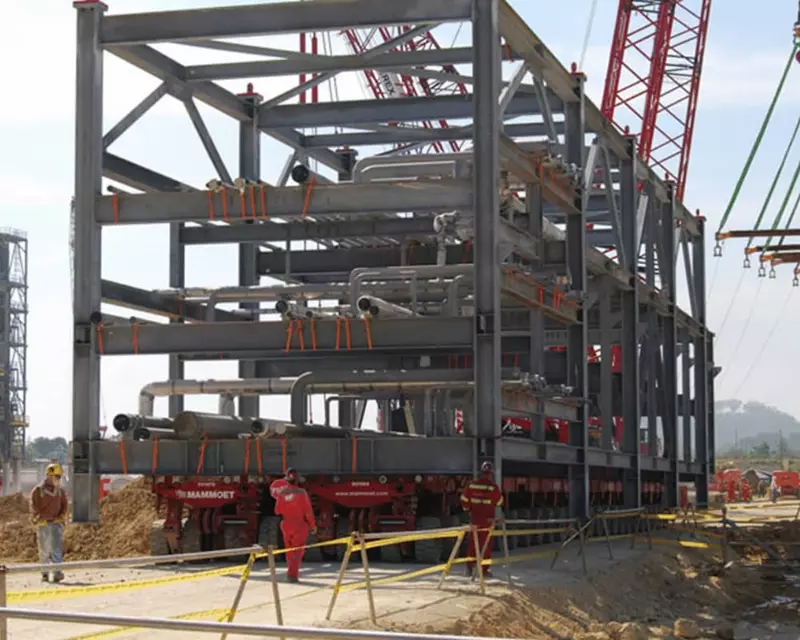 Expertise:
Project logistics

Marine transport

Crane lifting
Benefits:
Reduced preparation

Increased safety

Optimized schedule

Simplified management
A one-stop shop for refinery construction handling all overland transport, inland shipping, and on-site lifting.
In Cartagena, Colombia, CB&I was expanding and modernizing an oil refinery. To maximize construction efficiency, CB&I was looking for a single company to handle all overland transport, inland shipping, and on-site lifting.
Operators, engineers, project managers, and safety personnel had to be supplied as well. Mammoet gladly took on the challenge of bringing all these resources together in a single coordinated effort. Over 150 professionals worked for years under the strictest safety standards to get the refinery up and running as soon as possible.
The scope of lifting and transport services for this job was very large and diverse. The total number of lifts and moves for the project exceeded one thousand, with 150 of the lifts weighing 100 tons or more.
At a projected 165,000-BPD output, the stakes were high to get the refinery ready for business without delay. To meet the tight construction schedule, strict coordination of planning and activities was crucial. Mammoet would have to bring in and manage a large number of cranes.
At the peak of the project, Mammoet operated over 120 cranes on-site, ranging in capacity from 18 to 1,350 tons. Other equipment included a 900-ton gantry lift system, 144 axle lines of SPMT, and 48 lines of conventional hydraulic trailers.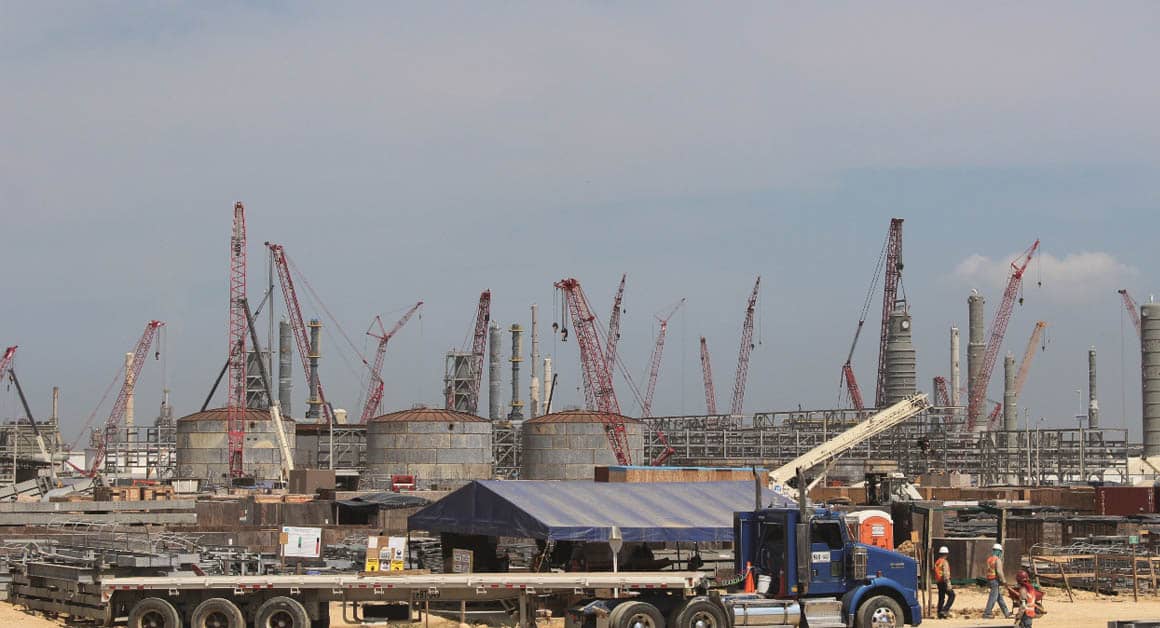 But the right equipment was only part of the project's success. As the only operator to manage all cranes on-site, Mammoet was able to guarantee maximum efficiency with a minimal number of cranes.
To ensure optimal safety, a special safety-training program was set up for the local staff. A dedicated maintenance shop was constructed to service the vast amount of equipment on-site.
Thanks to its large fleet of equipment and global pool of highly skilled professionals, Mammoet was able to supply all the materials and crew from a single source. By managing multiple cranes, Mammoet could work on many fronts simultaneously to expedite the massive operation.
Signing on a single contractor helped CB&I bring the refinery's go-to-market date forward – ready to start pumping out barrels.