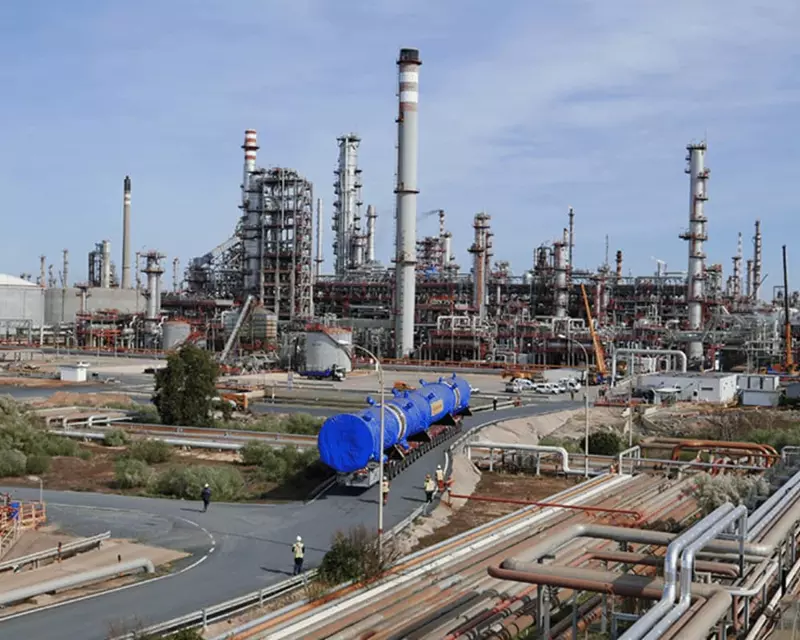 Expertise:
Project logistics

Crane lifting

Heavy transport
Benefits:
Reduced disruption

Protected infrastructure
A streamlined execution for a complex job.
Time was a critical factor for La Rábida Refinery in southwestern Spain. CEPSA was conducting upgrade works to the refinery, and every hour of the outage was a loss of productive time.
Mammoet was responsible for the transport and installation of a cracking column. With total management of each phase, Mammoet streamlined the project, minimizing any risk of delay through careful planning and in-depth knowledge of local requirements.
The vital component was delivered and installed in only four days, ensuring the refinery remained on track to maximize production.
The new 400 metric-ton cracking column was due to arrive from the manufacturer in India at the Port of Huelva. Mammoet was contracted by CEPSA to install the column. PRISM Logistics was responsible for the transport to the refinery via land and sea. However, due to Spain's complex transport regulations, PRISM Logistics approached Mammoet for support with the on-land transport.
Because of their extensive experience working in Spain Mammoet already had an in-depth understanding of local requirements and a longstanding relationship with Spanish authorities.
Aware of the logistic complexities, Mammoet approached the transport with careful planning and preparation to minimize any risk to the project's schedule and disruption to the local community.
They started the permitting process two months prior and worked closely with three major Spanish government organizations to devise a transport plan. As a result, the journey was completed safely in only two hours, via public roads and with a combination of police and private escorts. No road closures were required, causing minimal disruption.
Following the four-kilometer journey on 24 axle lines of SPMT, the column arrived at the site on time for installation. Under usual circumstances, a crane for this capacity would be configured with a backmast and superlift counterweight. However, this wasn't possible due to major space constraints at the refinery.
After exploring multiple equipment options, Mammoet proposed an effective solution to configure an LR11350 crawler crane without a backmast and place a 340-ton counterweight at its center.
This provided the necessary capacity without the need for additional space to perform the lift. Assisted by a tailing frame developed by Mammoet, the LR 11350 lifted the reactor with a 60-meter boom within two hours. The column was aligned with the bolts for final installation only an hour later.
Combining local knowledge with global expertise, Mammoet overcame complex logistic and engineering challenges to seamlessly execute the project on time, ensuring minimal downtime for this major Spanish refinery upgrade.