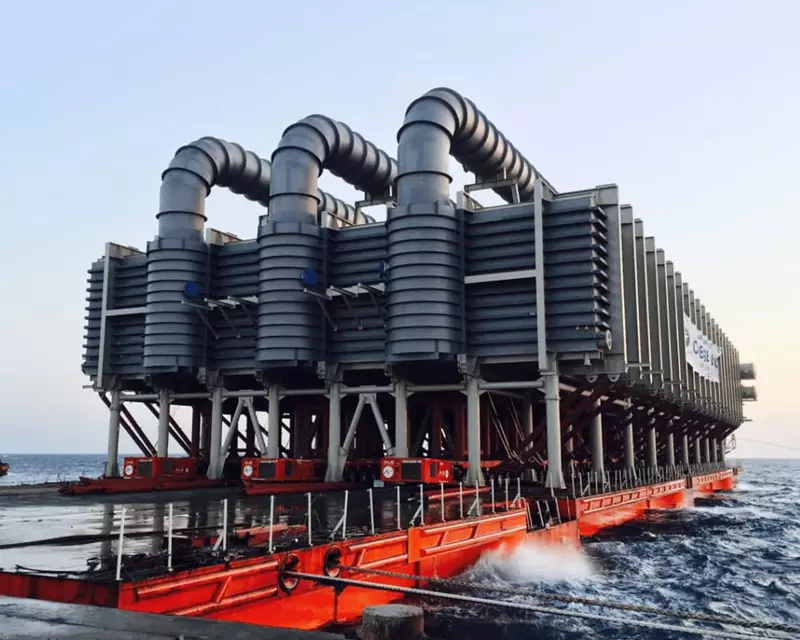 Expertise:
Heavy transport

Load-in & load-out
Benefits:
Flexible operations

Protected infrastructure

Parallel operations
Mammoet has broken another world record to transport the world's heaviest evaporator, weighing 5,134t, in Saudi Arabia.
Mammoet received the cargo at the jetty of the Shoaiba Desalination Plant Project, including the Evaporator, weighing 5,134t, a steam transformer, weighing 273t, lime filters weighing 34t, and a brine manifold weighing 16t each.
Mammoet first received and handled the items at the port. The evaporator was loaded in using 186 axle lines of SPMT in a 3 x 2 file 62 configuration. The remaining items were loaded in using different such as six axle lines, and 24 axle lines in a configuration of 4 file 12 and 18 axle lines of SPMT.
All of the axle lines were prepared close to the berth to optimize the loading time. These were then transported 1km to the site. Once on site, Mammoet had to negotiate the challenging route within the plant. To avoid the unnecessary removal of obstacles and passing over fences, aspects of the cargo structure were modified to pass over.
By remaining flexible in the approach, using local expertise, ensuring effective communication with Mammoet's Middle East branches, and mobilizing an experienced transport crew, Mammoet could overcome the logistics of receiving almost 200 axle lines of SPMT and the vessel was able to sail away within the time constraints.