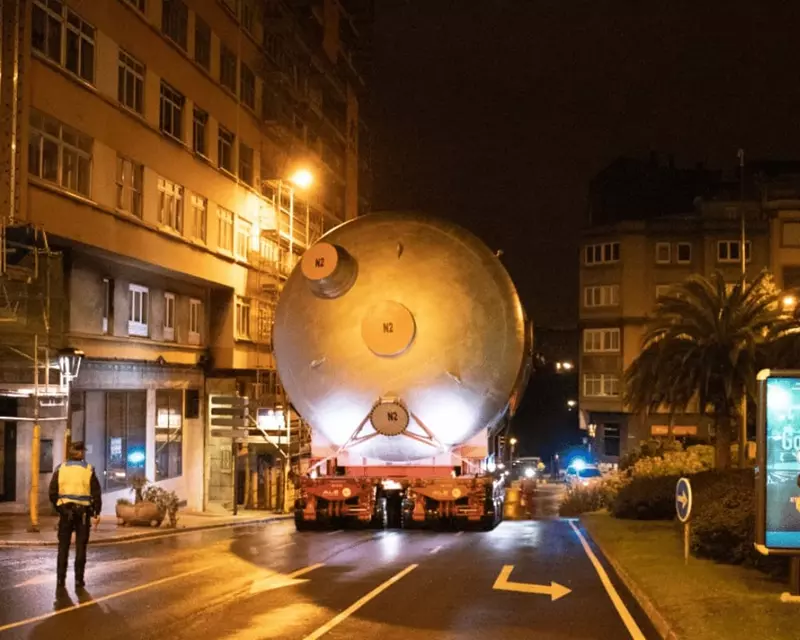 Expertise:
Heavy transport

Heavy lifting

Crane lifting
Benefits:
Reduced disruption

Reduced preparation

Simplified management
The Repsol refinery in A Coruña, Spain employs around 1,000 people and produces 120,000 barrels of oil per day, with the nearby port's oil terminal accounting for 60% of the port's traffic.
Operating several other low-emission assets, Repsol wanted to upgrade a Fluid Catalytic Cracking (FCC) unit to reduce the refinery's atmospheric particle emissions.
Mammoet was contracted to act as a single point of contact for both the transportation and lifting of a separator. By combining the work, Mammoet was able to manage the project's multiple contractors and provide a smoother operation, completing it within two consecutive days.
Mammoet carried out a preliminary heavy transport engineering and technical study to identify the most viable port capable of receiving the item and the best route to the refinery. It identified an efficient route from the Port of A Coruña and scheduled the transport operation to take place overnight to further minimize disruption locally.
It then designed a transport plan based on previous experience of moving large items through city centers that were never designed to handle abnormal loads. There was limited room for heavy lifting maneuvers at the installation area at the refinery site, so Mammoet had to provide detailed engineering and procedures for the lift.
Prior to mobilization, Mammoet managed all necessary permits, liaising with various authorities and owners for the removal of obstacles, including streetlights and power lines. In order to cross over a traffic island, Mammoet arranged appropriate civil works to prepare the road surface.
The third stage separator, weighing 137t and measuring 12.1m x 7.5m x 7.4m, needed to be installed onto the FCC unit. This would be the largest item to ever be transported through the streets of A Coruña and needed to be maneuvered within a limited area at the refinery.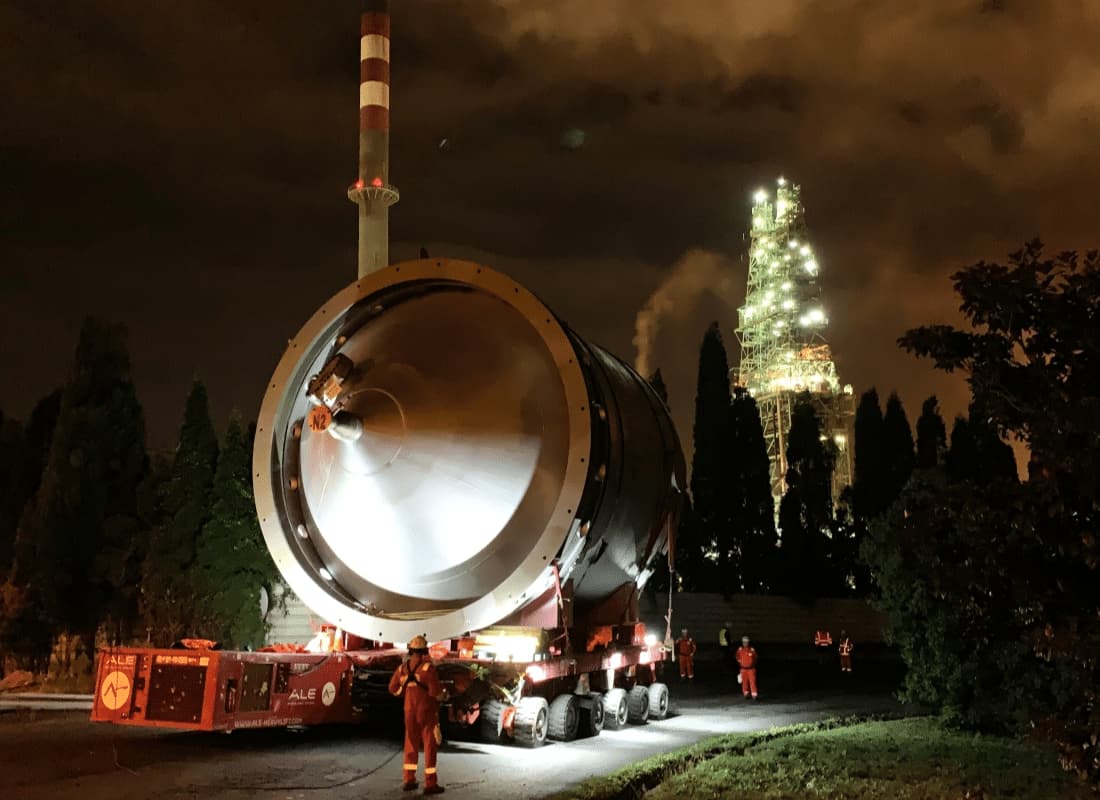 Mammoet performed the heavy transportation of the separator using SPMT over several kilometers, which provided the flexibility needed to transport the item from ship to site. The selection of this equipment enabled Mammoet to complete the transport within the port, on public roads, and within the refinery without needing to change equipment or alter the transport's configuration.
Once on site, the separator was maneuvered to its lifting position, where two cranes were used to lift it. The item was then negotiated through a series of turns before being installed in its final position on a concrete pedestal.
For transportation, Mammoet selected 12 axle lines of SPMT in a configuration of 6 x 4. To lift and install the separator, Mammoet used two mobile cranes with respective capacities of 1,000t and 350t, as well as providing all the necessary rigging.
Repsol is investing in a series of projects at the A Coruña refinery and the upgrade of the FCC unit is part of this.