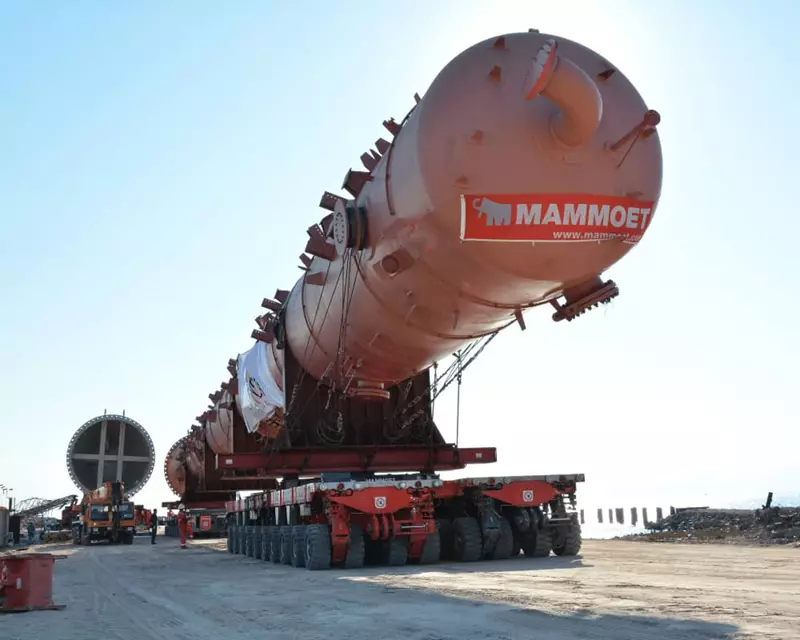 Expertise:
Load-in & load-out

Crane lifting

Marine transport
Benefits:
Reduced preparation

Reduced preparation

Parallel operations

Simplified management
Unlocking the simplest route for a complex delivery.
With Turkmenistan in possession of some of the world's largest natural gas reserves, the construction of a new $3bn petrochemical plant for Turkmengas marked a major economic step.
375 cargo items needed to be delivered from Constanta, Romania across the Caspian Sea to Turkmenbashi port, before the sea froze, to the project site at Kianly. As many of the items were too heavy to travel by the existing roads, Mammoet devised a comprehensive, yet simplified, logistics solution that made it possible to offload the cargo closer to the site. As a result, everything arrived safely and on time.
Designed to produce clean ethylene, high-density polyethylene, and polypropylene, the gas processing plant required delivery of components, weighing in total over 18,000 tons, from Constanta, Romania to Kianly, Turkmenistan.
If delivered to Turkmenbashi port, transporting most of the pieces over land would be impossible due to their weight and dimensions. Instead, Mammoet developed a smart approach so they could be offloaded nearer to Kianly. They found an old salt jetty located only five kilometers away, reducing road travel and simplifying the logistics operation.
Mammoet created a new RoRo jetty using load spreaders, ballast pumps, mooring winches, and ramps. This solution however created its own challenges.
Firstly, the waters around the new jetty were too shallow for incoming ships to dock. Secondly, the cargo still needed to go through customs at Turkmenbashi. Mammoet tackled both obstacles at once: they transferred the cargo to shallow draft barges at Turkmenbashi, using the Mammoet terminal crane (MTC15), while concurrently this allowed the cargo to go through customs. Once in Kianly, SPMTs and conventional trailers took the cargo onshore and thereafter to the site.
The cargo presented another hurdle as it included two fractionators; one 76 meters long, weighing 343 tons, and the other 96 meters long, weighing 534 tons. There wasn't enough capacity to offload these at the port to transport them in the same way.
Delivering them in sections and assembling them onsite would cause delays. So, the team proposed a different solution where a larger barge was sourced in Constanta to allow fractionators to be taken directly to Kianly. Mammoet negotiated an exception for clearance at the site with the customs authorities.
By preempting hurdles, Mammoet executed the most effective logistical solution for the heavy cargo, allowing Turkmengas to complete their facility on time.