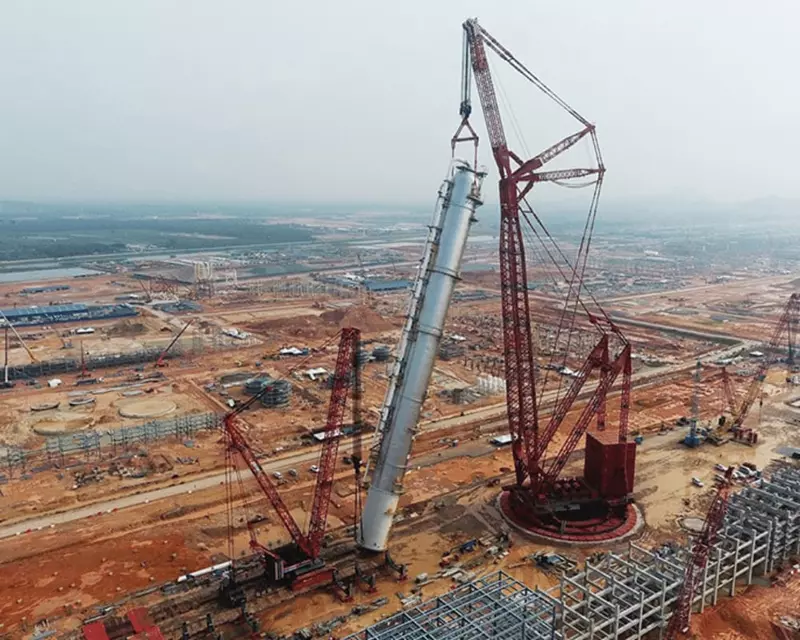 Expertise:
Heavy lifting

Heavy transport

Crane lifting
Benefits:
Reduced preparation

Optimized schedule

Increased safety

Simplified management
Eight projects - three giant cranes - one partner.
Malaysia's state oil firm set an ambitious target for the construction of their proposed refining and petrochemical complex. To ensure the tight deadline was met, Mammoet was given responsibility for around 80% of the heavy lift assignments.
For this purpose, the company brought three of the world's largest cranes on-site – the first time this had ever been done. With such a capacity to upscale and mobilize rapidly, Mammoet was able to schedule people and resources to maximize efficiency across the entire operation. Despite the presence of a severe electrical storm, the project was completed safely and on schedule.
The $16bn Refinery and Petrochemical Integrated Development (RAPID) construction project will make the Johor region of Malaysia a major regional petrochemical hub. Covering 2,000 hectares, RAPID incorporates a deep-water terminal to import crude oil and a refinery to transform the oil into commercial products.
The vast construction project was divided into around 17 distinct segments, or 'packages', 10 of which involved heavy lifting. With Mammoet's expertise and ability to deploy resources on a large scale, the company was given responsibility for eight complete packages, including the coordination of 11 shipments from three different locations for three different clients.
With three ring-mounted PTC cranes on-site at the same time, as well as a fleet of 17 large crawler cranes and 170 axle lines of SPMTs, Mammoet engineers were able to find synergies across the different packages. By taking a proactive approach to planning, communication, and collaboration between teams, Mammoet mobilized the right professionals and equipment at the right place and at the right time.
Their approach to scheduling and project management optimized the different activities for maximum efficiency.
While heavy rain was expected and managed by Mammoet, a period of severe lightning storms posed a significant additional challenge. In addition to being a life-threatening hazard, the lightning could have damaged equipment and brought the project to a halt. To counteract this risk, lightning detectors were deployed to provide a 10-kilometer warning for workers to take refuge in purpose-built shelters, and cranes were safeguarded to minimize the risk of a lightning strike.
By mobilizing and optimizing the skills and resources needed to take on eight packages simultaneously, Mammoet achieved time-saving efficiencies on the project as a whole, ensuring the work was completed safely and on schedule.