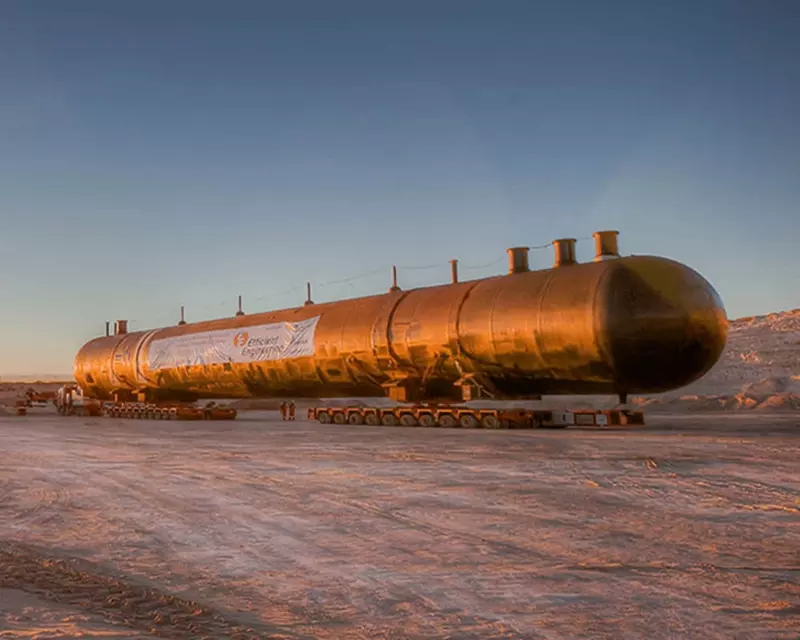 Expertise:
Heavy transport

Skidding

Jacking
Benefits:
Reduced preparation

Optimized schedule
Less digging speeds up the installation of five LPG bullets.
South Africa is experiencing a shortage of liquid petroleum gas (LPG). To meet the country's rising demand, Sunrise Energy is building an LPG Import Terminal to expedite distribution.
Phase one of the project involved the installation of five LPG storage bullets which had to be transported from a local manufacturer to Sunrise Energy's facility in Saldanha Bay. With each 67-meter bullet weighing 580 tons, it was the largest vessel of its kind manufactured in the Southern Hemisphere. Mammoet developed a way to make the monumental move in the least amount of time – and cost – possible.
The biggest challenge in this factory-to-foundation project concerned the installation of the bullets. As they would have to be installed on a platform made of sand, the original concept proposed to dig seven-meter-wide trenches from the offloading area, which would allow their trailers to drive up to the installation point of each vessel and offload them there. In consultation with the client, a more efficient approach was developed.
Mammoet engineered a creative approach and proposed using our jack-and-slide system to bring each tank to its final installation point. As its footprint is much smaller than that of trailers, only three-meter wide trenches needed to be dug - just big enough to lay down our skid tracks. All in all, our approach would save 50% of the original project schedule.
Mammoet picked up each bullet at the manufacturer's site and drove them on two sets of trailers to the installation site. Once on site, the bullet would be positioned perpendicular to the skid tracks. Each of the trailers was subsequently rotated 90° underneath the bullet. In this way, they could be driven to the trenches and bring the bullets to the point where they would be jacked free from the trailers, all the while at the right angle for installation.
After being jacked up, they were subsequently skidded into position on the prepared sand bed. Once the transport saddles were split and removed, the process was repeated for the next bullet.
Ultimately, Mammoet's approach was much shorter and more cost-effective than the original one, and helped secure alternative energy supplies for growing.