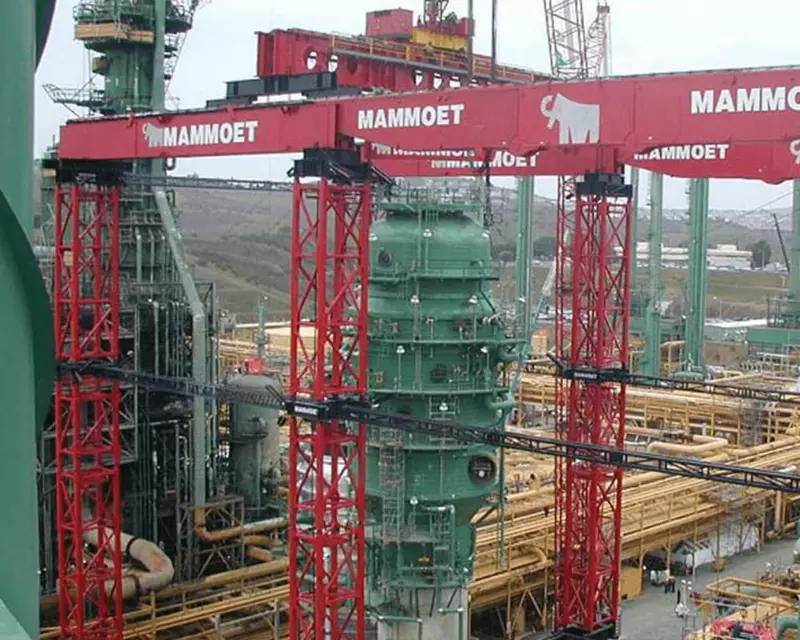 Expertise:
Heavy lifting

Crane lifting

Gantry lifting
Benefits:
Reduced disruption

Protected infrastructure

Optimized schedule
If something can't be done, create the tools to do it anyway.
When the Valero refinery was built several decades ago, the replacement of its components wasn't high on the agenda. When one of the plant's vacuum towers finally did have to be replaced in 2001, there was no space to do it.
Nor did a crane exist to remove the tower from its position in the congested refinery. Mammoet used its gantry lift system to change the towers in just two weeks. Disruptions to operations in the refinery were kept to a minimum.
The towers had to be replaced within the confines of the working refinery. Because shutting down operations was non-negotiable, Mammoet couldn't remove any of the piping or obstructions to create room to work. Sometimes the clearance between refinery equipment and lift system components was less than one inch - not a lot of space in which to move a 430-ton object.
Most of the equipment for the lift system already existed, but because of its sheer size and tight working space, additional engineering was required. To erect the system, one of Mammoet's Demag CC 2800 crawler cranes was mobilized. Once the gantry system was up, the old tower was lifted from its foundation.
It was lifted 15 meters in the air to clear the surrounding structures, and from there, it was skidded 55 meters sideways. It was then placed vertically next to the new tower on a temporary foundation. With the old tower out of the way, the new tower was lifted and skidded into position. The entire switch was completed within 24 hours.
Through smart engineering, extensive safety testing, and surgically precise execution, Mammoet replaced the vacuum tower in an impossibly tight location. Mammoet accomplished this without causing any expensive downtime for the refinery and was 3.5 days ahead of the client's schedule.